Apache Tomcat & TomEE
Community Partnership Program

Case Studies & Success Stories
"@WalmartLabs: Platform & Adoption of Apache TomEE"
Learn how WalmartLabs build a standards-based application server that encompasses internal platform technologies including cloud services.
---
"Apache TomEE, A Successful Open Source Migration Journey for NASA"
Learn how NASA uses Apache TomEE to centralize flight, aircraft, weather, engineering, and logistical data which was scattered across various systems.
---
"Tomitribe and Nexus Lifecycle: Champions of Open Source Security"
A success story of how Sonatype and Tomitribe are working together to deliver security for Apache TomEE and Tomcat.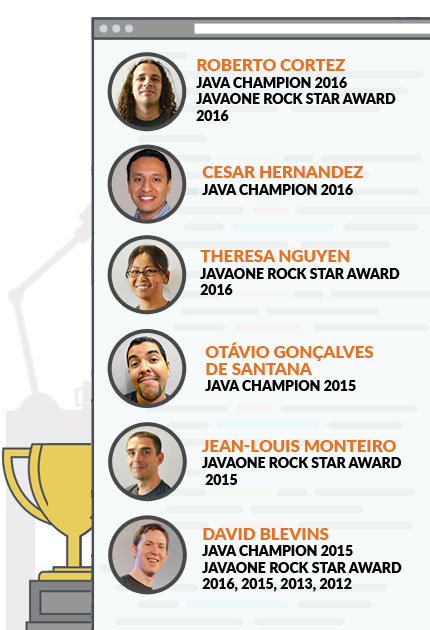 Congratulations to Tomitribe Award Recipients!
Roberto Cortez
Roberto contributes to JSR-352, Java EE 7 Samples and Apache TomEE, leads Coimbra JUG, co-leads the Virtual JUG Book Reading Club, frequently speaks at conferences, authors a Java technologies blog and runs the "The Java Tip of the Week" video series.
César Hernández
César is a GJUG and JEspanol community leader, an OUGG committee organizer, a Null Pointers Java band member, JUGs and Java conference speaker, and blogger. He is the founder of tFactory, an OSS web GUI that manages Apache Tomcat instance.
Theresa Nguyen
Theresa avidly supports open source, Apache TomEE, Java EE, MicroProfile and women in tech communities. She volunteers with the International Autonomous Robot Competition (iARoC) and The LEAGUE of Amazing Programmers.
Otavio Santana 
Otavio co-leads the JavaBahia and SouJava JUGs and contributes to JBoss Weld, Hibernate, and Apache Commons. He is the creator of Easy-Cassandra and a member of several JSR Expert Groups and JCP EC.
Jean-Louis Monteiro
Jean-Louis contributes to Apache TomEE, OpenEJB, OpenWebBeans, Sirona & other OSS projects, an active JCP, EJB 3.2 and JSR-375 Expert Groups member and speaker at JUGs and conferences. He teaches Web Services and Java EE at a university in France.
David Blevins
David is the Founder of Tomitribe, member of the ASF and a veteran of OSS & Java EE for 10+ years. He is the co-founder of OpenEJB and Geronimo, and a member of the JCP EC, and Expert Group: EJB 3, Java EE 6-8, JMS 2.1 and Java EE Security API.


MicroProfile
OPTIMIZING ENTERPRISE JAVA FOR A MICROSERVICES ARCHITECTURE
What is the MicroProfile?
The MicroProfile is a baseline platform definition that optimizes Enterprise Java for a microservices architecture and delivers application portability across multiple MicroProfile runtimes.
How to get involved?
Join the MicroProfile Google Group, persue recent topics or create your own, and join in on the conversation today. It's that easy!

Tomitribe Community
At Tomitribe, we believe in healthy open source contribution. It's a way of life for developers from all walks of life to engage in the creation and continual improvement of open source products. It's a place where users are the makers of rock solid and usable software.
Check out the Tomitribe Open Source Software Community where you can find a trove of tribe tools and projects for your Java applications. This is a community dedicated to uniting developers, contributors, hackers…whatever you call them, they're cool people that help make neat tools to promote a healthy ecosystem around Apache TomEE, Java EE and Java Open Source in general.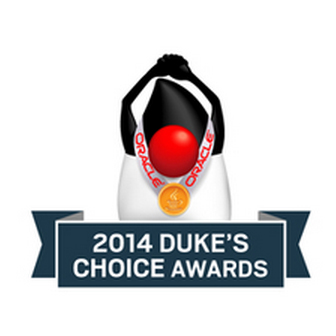 TomEE Wins Duke's Choice Award
Apache TomEE, the all-Apache Java EE 6 Web Profile certified stack, received a Duke's Choice Award at JavaOne 2014. It's the Java community equivalent of winning an Oscar and is awarded for compelling use of Java Technology. Oracle's Duke's Choice Award recognizes distinguished projects and efforts that bring invaluable innovation, Java-powered Technologies and Contributions to the Java Community.
Apache TomEE is a vanilla Apache Tomcat stack with Java EE features. The solution that simplifies a patchwork of APIs enabling enterprise features within Tomcat.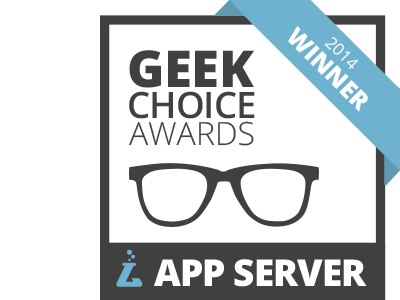 Tomcat and TomEE receives Geek Choice Award
RebelLabs released an annual study with awards to recognize Geeky Excellence for 2014. Tomcat and TomEE were named as one of the 10 Geek Choice Awards winner. For a complete list of winners, check out the report "10 Kick-Ass Technologies Modern Developers Love".

Apache TomEE – Delivering Java EE 6 Web Profile in the simplest way possible
TomEE, pronounced "Tommy", is a cool and [email protected] Apache project that starts with Apache Tomcat. It's all about keeping it tight and keeping it simple.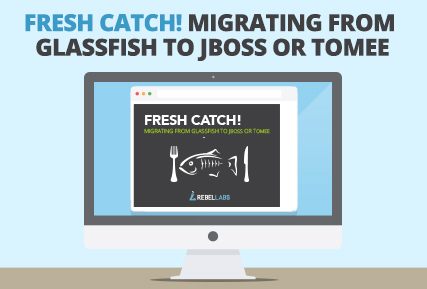 Featured Report
Insightful and informative report by RebelLabs, the research & content division of ZeroTurnaround: Abandon Fish! Migrating from GlassFish to JBoss or TomEE. This report covers the history of GlassFish and offers deployment based analysis to which application server is best for your business.